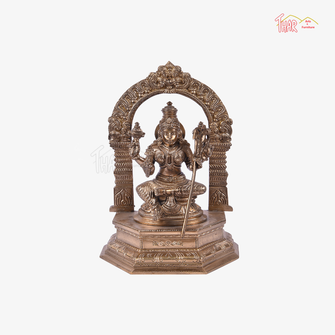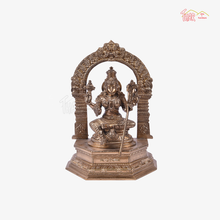 Bronze Rajarajeshwari Idol
₹ 0.00
( / )
Tax included.
Shipping
calculated at checkout.
Goddess RajaRajeshwari, one of the forms of Parvati and consort of Lord Shiva, helps her devotees attain liberation by helping them control their desires or emotions. She destroys all evil and negative energy. Her presence enhances the positive energy around us. Bring home the power and radiance of the exquisitely crafted bronze sculpture of Rajarajeshwari.
Material: Bronze
Colour: Bronze Finish
Dimensions: Length: 5.75"inches, Width: 3.25"inches, Height: 9"inches (in cms L*W*H = 15*8*23) Weight: 2550 Gms 
Package Contains: 1 Unit Of Bronze Rajarajeshwari Idol
Care Instructions: Use dry cotton cloth to remove dirt.