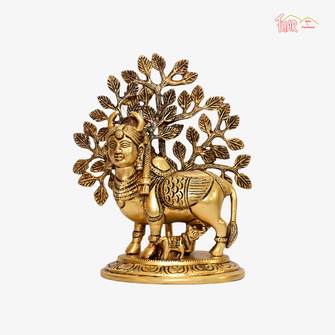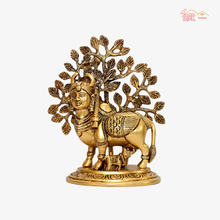 Brass Kamadhenu
₹ 0.00
( / )
Tax included.
Shipping
calculated at checkout.
Kamadhenu with a tree statue brings together two idols that are believed to bring good fortune to any home—the Kamadhenu and the Kalpavriksha. Kamadhenu is the mother of all cows and is often depicted as a cow with a woman's face, the wings of a bird, and the tail of a peafowl. The Kalpavriksha, also known as Kalpataru, is considered a divine wish-fulfilling tree.  Kamadhenu can fulfil all desires and bring peace and prosperity to your home. Why not bring the power of prosperity to your home today?
Material: Brass 
Colour: Antique Yellow
Dimensions: Length: 5"inches, Width: 4"inches, Height: 7"inches (in cms L*W*H = 12*9*19) Weight: 1850 gms
Package Contains: 1 Unit Of Khamdhenu
Care Instructions: Use dry cotton cloth to remove dirt.