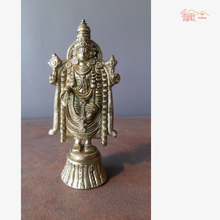 Brass Lord Venkateshwara Statue
₹ 0.00
( / )
Tax included.
Shipping
calculated at checkout.
Popularly known as the 'Kaliyug Avatar' of Lord Vishnu, Tirupati Balaji is a unique incarnation who is said to have appeared on Earth during the age of Kali. Worshipped by millions, Lord Tirupati lays down the path of salvation for his devotees. This impressive brass statue of Lord Venkateshwara is a perfect way to bring a sense of peace and serenity to your home. Skillfully handcrafted with intricate detail, the statue will surely lend an air of grandeur to your living space.
Material: Brass 
Colour: Antique Yellow
Dimensions: Length: 3.5"inches, Width: 2.25"inches, Height: 7.5"inches (in cms L*W*H = 9*6*19) Weight: 1070 Gms 
Package Contains: 1 Unit Of Brass Lord Venkateshwara Statue
Care Instructions: Use dry cotton cloth to remove dirt.